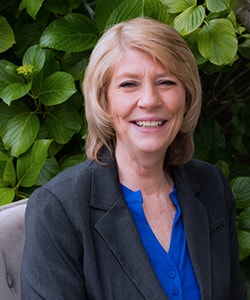 Janelle Dixon
Janelle Dixon comes to Daprile-Bell Family Law Offices with 20-plus years of paralegal experience. She is the "sleuth" of the office and thinks outside the box for our clients' unique needs. No problem is too small or too big for her creative approaches. Her earlier experience in criminal defense, civil, business, personal injury, employment and real estate law have given her a wide range of experience to our family law practice. Family law litigation, research, discovery, writing and client interaction are her passions.
She lived and worked in Colorado and Nevada prior to relocating to the Bay Area and joining Daprile-Bell Family Law Offices. She has created a foundation of successful hard work, and our clients enjoy her breadth of knowledge and can-do attitude.
She has a wonderful imagination and a great sense of humor, and she gets along well with people of all ages, cultures and backgrounds. In addition to her love of law, she enjoys nature, especially the ocean. She enjoys hiking, exploring, sightseeing and traveling. Her hobbies include cooking, inventing recipes, gardening, growing orchids, writing, drawing, painting and learning.