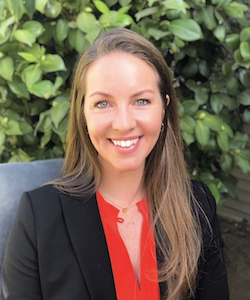 Adele Gold
Associate Attorney
Adele S. Gold has been a family law attorney in Santa Clara County for over 5 years and she works closely with Natalie Daprile on complex family law matters. Originally from Pittsburgh, Pennsylvania, Adele grew up in Ventura, California and relocated to the South Bay over a decade ago after graduating from UC Santa Cruz where she earned her BA in Environmental Studies. After graduation, Adele completed a one-year term of national community service as a full-time AmeriCorps member with an urban-forestry non-profit in San Jose.
Adele graduated from Golden Gate University School of Law, in 2014. As a law student Adele worked in a variety of public service and non-profit positions including serving as a judicial intern at the Santa Clara County Hall of Justice, and providing direct-client services as a certified law student at the Law Foundation of Silicon Valley and the Environmental Law and Justice Clinic at Golden Gate University. Adele also participated in a postgraduate Fellowship with the GGU Veterans Legal Advocacy Center, where she represented disabled and wrongfully discharged veterans, and mentored the Center's staff of law student advocates.
Adele is member of the Family Law section of the Santa Clara County Bar Association. In her free time, Adele enjoys spending time with her family and dogs and practicing Yoga.